Tornado Warning in this area til 7:00 PM CDT. Take shelter now. Check local media.–NWS
I was already sheltered in the basement of our home seeking protection from the approaching tornado when the National Weather Service text alert blasted on my cell phone. Minutes earlier, after local community-wide emergency sirens blared, I closed windows, gathered flashlights, grabbed my camera and headed to the basement with my husband. The local radio announcer advised the storm would hit Faribault in 10 minutes. It did.
The rare outbreak of 16 tornadoes and straight line winds across six southern Minnesota counties on September 20 damaged and destroyed buildings (including homes), dropped trees and power lines, destroyed our local airport and much more. My neighborhood was among those hit. Not by a tornado but by downbursts of wind reaching nearly 100 mph. Massive trees toppled onto vehicles, garages, houses, streets and power lines in a several block area surrounding my home.
It was terrifying to hear the bang of an electrical transformer blowing, to hear the rolling roar of either thunder or the wind or an approaching tornado in the flashlight lit basement. We emerged a half hour later to find the electrical line, mast and meter ripped from our house, the power line lying across our driveway and trees blocking every street within view.
But we were safe. Not a single life was lost in areas affected by this massive storm system.
It is often said that the most difficult times bring out the best in people. I found that to be true, beginning the morning after the storm. As Randy and I surveyed the damage in our neighborhood, we met a young man checking on his brother. We talked about the storm and, in the course of our conversation, I mentioned that we didn't have cell phone chargers. We then headed our separate ways—us to check on an elderly neighbor and the young man to his brother's house. Within 10 minutes he returned, extended his hand and said, "Here I want you to have this. God bless you." He gave me a portable cell phone charger. I hugged him and cried. His generosity to me, a stranger, overwhelmed me. Then he asked to pray with us, which brought more tears. So there we stood, the four of us circled in our neighbor's front yard, hands joined, Xavion praying aloud. It would not be the first time of circled prayer.
The following day 14 of us clasped hands and circled in a friend's front yard after we'd worked for several hours removing a fallen tree. There's something incredibly powerful about praying outdoors in the aftermath of a storm, thanking God for His protection, praising His name as chainsaws buzz and sunshine streams warmth.
Later I would learn that the man who led the prayer, the person I'd been working aside for hours, was a local pastor. That explained his seasoned voice of prayer. But it was the voices of all of us reciting The Lord's Prayer that touched me most. Many of us were exhausted, emotionally drained, weary from the weight of the storm and its aftermath. Yet, we chose to pray words that uplifted us, our many voices rising above the roar of chainsaws. Loud. Strong. Faithful. More powerful than any storm.
The strength of the human spirit, the goodness of people, shone throughout my community. A local pizza place made 30 pizzas and gave them to people in storm damaged areas. A woman opened her garage, pulled out the grill, put out a FREE MEAL COME EAT sign and, along with other volunteers, served meals to anyone in need of a hot meal. For days. To more than a thousand. Others offered freezer space, hot showers and more to those without power.
Back at my friend's house, a neighbor brought bottled water for our tree removal crew. Another friend dropped off scalloped potatoes, grapes and homemade cookies. There were hugs and smiles and a general overall feeling of gratitude.
When Randy and I finally got around to dealing with a large fallen tree limb in our backyard three days after the storm, a friend showed up with his chainsaw.
I expect many who live in my city and the other Minnesota communities and rural areas ravaged by the September 20 tornadoes and straight line winds could tell similar stories. Perhaps not of hands joined in front yards to pray. But stories of kindness and compassion and help. Such care and actions bring us closer to one another, instill in us a deeper appreciation for life, of that which really matters. Not homes. Not vehicles. Not things. But rather each other. I saw the hands and feet of Jesus blessing my community in countless ways in the aftermath of a devastating storm. For that I am grateful.
About the author: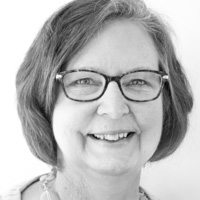 Audrey Kletscher Helbling writes from Faribault, a city of some 24,000 located an hour's drive south of Minneapolis along Interstate 35. Her community, county and other parts of southern Minnesota continue to recover from the September 20 storms.