My father lived a simple life. He was a farmer, a man who loved the land, his family, community and God. He never moved far from the Minnesota farm place where he was born, choosing instead to live just down the road, farm and raise his family. Another mile away, he chose, too, to worship.
The legacy of faith my father left was among his greatest gifts to me. He taught me the importance of rising on Sunday morning to attend worship services followed by Sunday School. He taught me the importance of bowing my head and folding my hands before digging my fork into a meal of meat, potatoes, gravy and whatever side vegetable Mom pulled from the garden or freezer or dirt-floored cellar. He taught me the importance also of thanking God for all we had, which by today's standards, wasn't much. Our family of eight lived in a cramped farmhouse without an indoor bathroom, wore hand-me-down clothes and had little money. But it was enough.
Dad taught me to respect the earth and life, to work hard, to be honest. He understood the blessings of the harvest, of children at his table, of his heavenly Father who saw him through war, drought, financial hardships, health issues and more.
My dad was not without faults. Like all of us, he made mistakes and poor choices. Yet, he prevailed in his unwavering faith in God. He took to heart the words of Proverbs 22:6: Train a child in the way he should go, and when he is old he will not turn from it.
On Father's Day, I think of my earthly dad—gone 15 years now—and of my heavenly Father, who remains always beside me. Like my dad, God provides. Look at the birds of the air; they do not sow or reap or store away in barns, and yet your heavenly Father feeds them. Are you not much more valuable than they? (Matthew 6:26).
I wish I'd shown more gratitude to my dad, thanked him for his hard work, his love, his legacy of faith. But men of that era often didn't connect with children in the same open way young fathers do today. I appreciate that today's dads are more connected and publicly valued.
Within our personal and church families we can, on Father's Day especially, recognize and honor fathers. My Minnesota church, for example, has given devotionals, pocket bible verse cards and keychain flashlights to fathers on their special Sunday in June. Warner Press offers a variety of products—from themed bulletins to bookmarks to books to a set of greeting cards—focused on fathers. It's important to express appreciation to men, to assure them that Blessed is the man who trusts in the Lord, whose confidence is in him (Jeremiah 17:7).
Trust in the Lord. As a farmer, my dad trusted that the seeds he planted would grow and yield ears of corn and pods of soybeans. He trusted that God would send rain and sunshine as needed. It takes a lot of trust to be a farmer. In his job of farming, my dad indirectly taught me to trust in God. To wait on the Lord. To rely on God. What a gift. I am thankful for those lessons, those blessings. And I am thankful, too, for the continued blessings of my divine Father, a continuing presence in my life still, years after my earthly dad taught me the value of faith.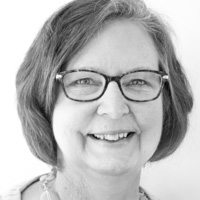 About the author: In 2005, Minnesota writer Audrey Kletscher Helblingwrote about her dad's legacy of faith in a story, "Faith and Hope in a Land of Heartbreak," published in the anthology God Answers Prayers Military Edition—True Stories from People Who Serve and Those Who Love Them. In that story, Audrey wrote of her dad's strong faith while fighting as a foot solider on the frontline during the Korean War.