As a child, storms terrified me. Memories of a tornado that killed nine, injured 125 and devastated a small community near my Minnesota hometown lingered into adulthood. Then more storms hit decades later, this time damaging the farm place where I grew up and partially peeling the roof from my childhood church.


Those strong visuals imprinted upon me a respect for storms and their destructive power. Eventually, motherhood forced me to curb my gut fear reaction, to tuck away my anxiety and respond to storms with semi calm.
Throughout life, we all face storms. Maybe you haven't witnessed the chaos of a tornado or other severe weather. But I expect you have weathered many a personal storm or helped family and friends through storms. They are a certainty of life. We don't choose those storms, because none of us would ever choose bad weather. But we can choose how we react.
Responding with calm doesn't come naturally. Take the May morning a dozen years ago when my then 12-year-old son was struck by a car while crossing the street to his school bus stop. I heard sirens, watched emergency vehicles race past my home. Fear clenched me. Then the phone rang and my fear was confirmed. "Please, God, not my boy," I screamed in panic-driven prayer. My slim son, slammed by a car and sent somersaulting onto the pavement, suffered only minor injuries.
The outpouring of support from school staff, from friends and family, from our church (including a visit from the pastor) uplifted me. On a difficult day, many were praying for us as news of the hit-and-run broke. I thanked God for protecting my boy from serious injury and later conveyed that thanks during an interview with a local newspaper reporter.
Just like on that spring morning in 2006, I am reminded many times in Scripture of God's care for me, for us. We can hope in him, trust in him, feel his arms encircling us, keeping us safe. Luke writes in chapter 8 of Jesus calming a storm: He got up and rebuked the wind and the raging waters; the storm subsided, and all was calm.
All was calm. How powerful those words. I'll admit, though, that I often fail to remember that message. Scripture, in example after example—Daniel in the lion's den, the three men in the fiery furnace, David in his battle against Goliath—reminds me of God's faithfulness. I can seek calm in the challenges of life by relying on God, by reading his Word and by praying. Be still, and know that I am God. (Psalm 46:10).
We each have the opportunity to find that still in the storm, not only for ourselves, but also for others. Through empathy, sympathy, understanding, care, compassion, prayer and action, we can comfort those enduring difficulties. Words spoken, words written (in Scripture, books, cards and more), help offered, food served—all can bless. Simply listening also offers great comfort.
God gives us strength to endure the storms of life. That much I've learned. When I am afraid, I will trust you. In God, whose word I praise, in God I trust; I will not be afraid (Psalm 56:3-4).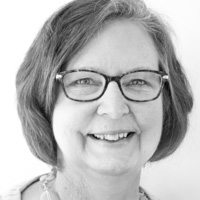 Audrey Kletscher Helbling writes from southern Minnesota, where she once rode out a severe thunderstorm in a car parked on a rural road in the pitch black of night. As the car rocked, wind flattened roadside grass and lightning flashed, Audrey prayed for protection for her family. A half hour later, they arrived back in her hometown, safe and thankful.