I will always feel grateful for the Thanksgiving none of my adult children could come home. That happened two years ago and changed my perspective on a holiday that focuses on being with family. Not that I didn't want my family with me. But distance separated us and, for the first time ever, none of my three children would be in Minnesota.
I could choose to feel sad and alone. Or I could choose to do something that would make others happy. Something that would fit the spirit of giving and of gratitude.
On that Thanksgiving Day in 2016, my husband and I drove to the local American Legion, site of the annual free Community Thanksgiving Dinner. There we joined a long line of volunteers waiting to deliver turkey dinners in our city of some 24,000.
I had no idea what to expect. But I was determined to deliver a hot meal with holiday hospitality and graciousness. I didn't realize how much I, too, would benefit.
From a mobile home to a condo to an apartment to single family homes, we brought not only food, but also holiday happiness: To the woman recovering from pneumonia with her husband in the hospital. To the woman I never saw and whose meal I left on the kitchen counter per her shouted instructions to also take a $5 donation for charity. To the woman who answered the door in her bathrobe. To the woman who waited outside her apartment building for us. All welcomed us with gracious gratitude.
I experienced a sense of overwhelming blessings. There is great joy in serving others.
The following year I knew exactly where I would be when, once again, our grown children could not be with us on Thanksgiving. Randy and I returned to the Legion, gathering Styrofoam containers of food to deliver around town.
Once again, grateful folks welcomed us, including Bea (not her real name). I knocked on her back door, then eased it open before entering a galley kitchen. Bea shuffled toward us, her smile bright with greeting. She directed us to place the containers—one holding a traditional turkey dinner, the other a slice of pumpkin pie—on the seat of her walker. Instead, we set the boxes on the counter and I offered to carry both to the table.
Bea peeked at the pie, which drew her praise. Seeing her delight, I lifted the lid on the larger box to reveal shreds of turkey, mashed potatoes and gravy, stuffing, green beans, a dab of cranberries and a dinner roll. Bea's smile widened wider.
The petite senior pulled silverware from a drawer. I followed her to the table with dinner and dessert, placing the boxes where she pointed. And then I bent close, spontaneously wrapping this appreciative woman in a hug. She held on and cooed and I nearly cried for the joy of the moment, of holding Bea close.
I remain thankful for that moment with Bea, for the blessing of serving her and, in return, experiencing great joy.
About the author: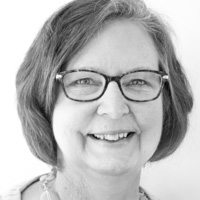 This Thanksgiving, Audrey Kletscher Helbling will gather around her dining room table with her husband, eldest daughter, son-in-law and 2 ½-year-old granddaughter. If her daughter wasn't eight months pregnant, she'd suggest volunteering at the community Thanksgiving dinner.